Bow before your Centaurian Lord!
Jan 02
[[ OOC: Yep, after a LONG hiatus, I decided to bring this blog back from the dead. Spike has a right to be excited. ;3
Also cleared out my Ask inbox for the most part for a clean slate, so ask away! Updates will follow very shortly.
Also ALSO, a big BIG thanks to everyone who is still following me. You had faith where others didn't, and now it's going to pay off. Like big time. XD ]]
Aug 22
OOC POST: So yeah, guys, I know I'd promised I'd update this Tumblr more often, but things keep coming up that prevent me from having any time to do so. I've been going through a LOT of shit lately, including having to put my dog down, falling sick for a week, and dealing with my bitchy housemates. I guess things aren't going well for Tirek either, hence the fact he's been drinking….
I promise that updates will resume as usual soon, maybe in September or October…right now I'm just too damn sad and too damn busy. If you want to contact me though, you can find me through my DA page or my FA page.
May the night last forever, you guys. *brohoof*
Jul 11
[[OoC: God, I'm sorry guys. I haven't updated this blog in almost two months. D: Things came up, computer issues, funerals, hard times…but I promise I will update this Tumblr more frequently from now on. I…and Tirek…are ready to take on your questions. So ask freely!]]
May 28
Huh…come to think of it, what would a female me be called, anyway? Tira? Tina? Tirekia? Uh…I got nothing.
May 27
Okay, okay, you got me…
May 26

((OOC: Sorry about the lack of updates, guys! Things have come up lately that have been preventing me from doing much…I promise I…I mean, Tirek…will get back to answering your questions ASAP.))
May 13
Oh come ON, guys, you should know by now that I hate rainbows. I don't need to explain it to you. D:
Bright Eyes loves to share her pie with me…I'm not sure if that's a good thing or a bad thing…
…Fuck it. It's a good thing. It has to be.
May 12
Who's following who?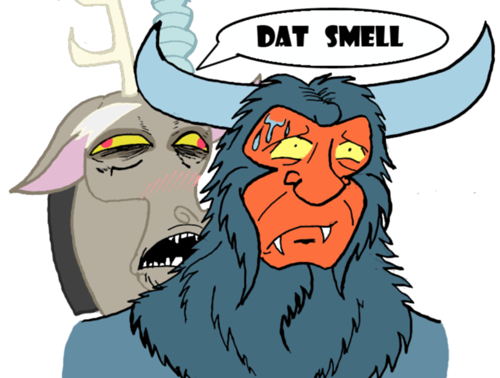 …I take it you like my new shampoo, Discord?
Though I do appreciate that you guys care about me so much…kinda makes me a little emotional.